If you follow our updates, you saw that we recently made a change and did a serious step up in Vessels. While both previous vessels were wonderful (2011 Californian LRC 55, and 1989 Tollycraft 53), they each had their downsides. Mostly for me it was about the systems on board and capabilities. While our current cruising grounds don't require an ocean capable vessel, having the extra weight and stabilizers along sure make those days crossing the straights with less than ideal conditions much more palatable.
That brings us to our newest (and hopefully last for a LONG while) vessel. Dubbed Watermark at its launch, Jade Panama' is a custom designed and built Rayburn that was built not too far from here in British Columbia.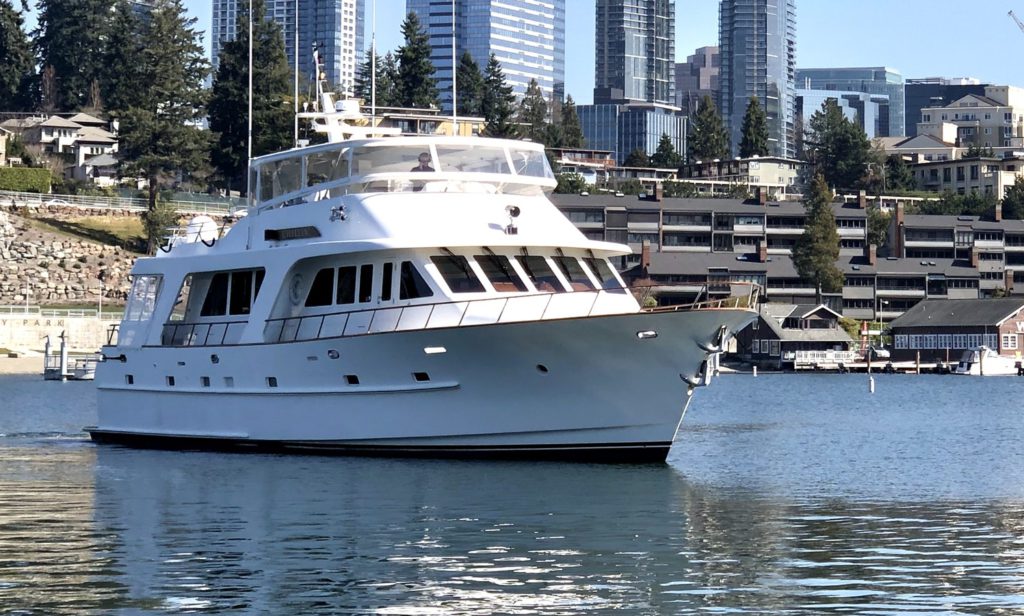 WATERMARK was built for an experienced yachting couple who wanted to explore the world. Extensive planning was done for this yacht and the owner was on site daily throughout the construction. The architect designed a sea kindly hull intended for extensive offshore cruising by a retired couple, neither of whom are mechanics or technicians, so they could operate the vessel without crew. To help meet these requirements, labor saving mechanical systems and equipment were incorporated and redundancy was built into all critical systems. Systems crucial to basic vessel operation were kept simple to increase reliability and reduce maintenance.
Since the owners anticipated extended passages in the open sea, safety and seaworthiness were critical. Their intention to cruise in remote parts of the world dictated the selection of equipment, and all mechanical, electrical and plumbing components are readily available and serviceable worldwide. Maintenance of watertight integrity was important, as was the minimizing of motion in rough water.
Routine stability checks by the architect confirmed that the vessel was designed with an abundant margin of safety. Comparison with the USCG weather criteria for ocean going vessels in fully exposed water conditions (a conservative measurement for ships that entails 100 knot winds) indicates that by the most conservative calculations this vessel exceeds the criteria by an impressive 14% margin. Other sea keeping considerations include: a motion-dampened hull form augmented by active stabilization: freeboard and bow sections that offer resistance to pitch and vertical acceleration. The fine bow with narrow chine forward keeps running resistance low in all sea conditions and ensures that very little water is taken over the bow.
The hull laminate schedule from exterior to internal includes 4 x CDM 3408 fiberglass reinforcing, 1″ Corecell A550 core, 4 x CDM 3408. The entire exterior hull laminate is impregnated with vinylester resin. Keel laminate is 1.5″ solid CDM 3408. Two runs of 12oz. to 19 oz. Kevlar was added to outer shell laminate in strategic areas. Hull bottom framing is Nida-Core encapsulated with 4 runs if 1708 in engine room and 3 runs forward of the engine room. Longitudinal reinforcement is 3 x 1708 encapsulated H55 PVC foam.
Engine / Mechanical / Electrical Equipment
Main Engines: 2 x Caterpillar 3406E rated output is 800 h.p. each @ 2300 RPM with flange mounted Twin Disc MG 5114 2.5:1 reduction gears, wet exhausts, and freshwater heat exchanged.
Controls: Twin Disc Electronic (4 stations)
Engine room ventilation: Delta T
Fuel Filters: Dual Racor 75/1000 – fuel polishing capability though transfer system.
Prop shafts: Strut mounted with Cutlass bearings, 3.5″ Aquamet 22 HS with Tides Marine seals.
Props: 37×32 5 blade Nibral
Steering: Jastram hydraulic with power assist via pumps on mains. Dual rudder actuators and full follow-up jog lever controls at port and starboard wing controls. Passive helm pumps at pilothouse and flybridge helms. Rudders are semi-balanced foil type constructed of stainless steel plate.
Hydraulics: Naiad fully integrated system, dual pumps off of main engine gears.
Windlass: 2 x Maxwell 4500 hydraulic with controls a t the fore deck, pilothouse and flybridge.
Ground tackle: Two 50Kg Bruce anchors, stem mounted over and under on centerline with 400′ each 1/2″ Grade 60 HDG chain per side. One 40 lb. Fortress with 30′ of 3/8″ HDG chain and 300′ nylon rode.
Stabilizers: Naiad 254 w/ 9 sq.ft. fins
Bow thruster: Naiad Model 10 LHT
Stern thruster: Naiad Model 10 LHT
Davit: Steelhead 2000, 24vDC/hydraulic
Mast: hinged and hydraulically powered by davit power pack.
HVAC: Marine Air Systems 9 ton, hydronic, chilled water with heating and individual thermostat controls in each compartment.
Two Trace 4000 Inverters, boost transformers.
Shore Power 240V/100 amp.
Power converter – Ocean Electro system (50Hz to 60 Hz)
Generators: 1 x Northern Lights 32kW and 1 x Northern Lights16kW generator 120/240VAC 60 Hz. 1800 rpm.
Corrosion control: Electro-Guard active corrosion monitoring
Watermaker: Sea Recovery Aqua Whisper SRC AWM 1800-2
Water System: Headhunter dual 24vDC pumps, UV protected shore water.
Fire Extinguishing: FireBoy FM-200 fixed system for engine room with automatic and remote triggers. Portable units throughout vessel.
Vessel Alarm System: multiple sensors to include tank levels. nav light function, AC and DC systems voltage, bilge high water, smoke and carbon monoxide detectors, low freezer temp., engine room high temp., door and port light sensors.
Other: Glendenning CM-8 Shore Power Cord Retractors, Kahlenburg dual trumpet horns, 115VAC compressor with 5 gal. receiver tank, Pin Craft hydraulic passarelle, Reverso lube oil change system, Oberdorfer fuel transfer pump w/ GPI FM-100 flow meter, Headhunter Marine Sanitation Device – Royal Fox RF 50B, Panasonic KX-TA624, engine room stereo system, fuel fill indicators.
As you can see, she is complex… much more complex than the previous vessels, but I am quickly getting up to speed on all her systems.
With a proper Wheelhouse, a fabulous Flybridge, along with Wing Stations on Port and Starboard she is so easy to operate. It also has a wired remote on the stern that was used when stern tying in the Med.
Lastly, my wife's favorite parts, the Galley and Staterooms. Beautiful Honduran Mahogany throughout, large staterooms with private heads, a main level day head, and even a walk in freezer for those long passages in a full size laundry room.
We truly are blessed to enjoy such an amazing vessel. For some older walk through videos, you can see a couple done by previous listing agents on YouTube.
She was originally built as Watermark – you can see it in closer to original form on this old YouTube link.
She was then refit/updated around 2015 and you can see some of the changes here on this YouTube link.